Captain Hamlin T. Bucknam, Minot, ME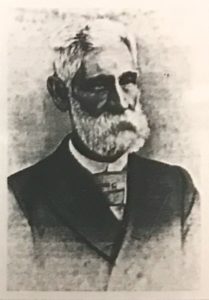 Captain Bucknam was born around 1830, probably in Hebron, Maine (according to the 1850 census). By the 1860 census, he was boarding with the Valentine family in Minot, Maine. After the war, he apparently returned to Minot where he married a "Rachel S." His occupation, according to the 1880 census, was farming. He died on October 14, 1909 when he was approximately 79 years old. Just 11 days later, on October 25, 1909, his widow applied for his pension.
In his October 6, 1909 letter to Captain Robert M. Stevens,  Corporal Nicholas Lougee states: "Manning and Bucknam came down and staid (sic) Sunday. Bucknam is doing very poorly, his heart bothers him a great deal, and I fear that he has made his last visit to the old place. Too bad, we shall miss the old comrade." Indeed, Bucknam died only eight days later, but was active with the Fifth Maine Regiment Hall right up until his death.
Earlier in his life, Bucknam took an active leadership role in the Fifth Maine Regiment. A May 1, 1861 article in the Lewiston Daily Evening Journal states that, "a volunteer company has been formed at Mechanic Falls. William A. Tobie has been chosen Captain, and H. T. Bucknam Lieutenant, and a Mr. Spiller 2nd DO."
In History of the Fifth Maine Regiment, George Bicknell write a memorable passage about the battle at Gaine's Hill. "Comrade after comrade fell upon either side, yet there was no faltering. The enemy approaching nearer the left of our regiment than was deemed advisable by the brave Captain Buckman (sic) in command of Co. 'K,' he at once detached his own company, and with another, made a gallant charge upon them, driving them like sheep before his brave boys." Bicknell also notes that Bucknam was wounded at Crampton Pass.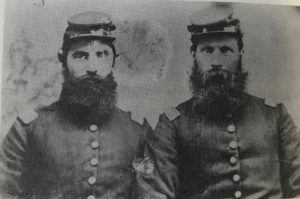 Image of Captain Hamlin T. Bucknam and Captain Burbank Spiller from History of the Fifth Maine Regiment by George Bicknell.